As we move into the new year, it's time to take a look at what we've been up to over the last few months.
Hadean inc.
In November 2019 we welcomed a new client from the big smoke. Hadean approached us with an exciting brief. We were tasked with creating a website that would represent the disruptive vision of the company.
Hadean is a London based tech start-up who built the world's first cloud-first operating system. Currently their dominant application is video games but Hadean's tech is progressing into the application areas of: life sciences, medical technology, financial technology, government and civil and military and defence. The website had to showcase the multifaceted nature of the company and its applications. 
To complete this work we had to get to know Hadean's product offerings and translate it into iconography, illustration and web design. With their main target audience operating within the gaming industry, our work needed to feel media rich, futuristic and tech heavy but with clean UX.
Take a look at our video showcasing the work above then check out our Hadean case study. 
Designer eye game
One year on from the launch of our little designer eye game we gave it an appropriately Christmassy twist. Players of our game had to contend with challenging new levels and guest appearances from Rudolf, Frosty the Snowman and Santa himself.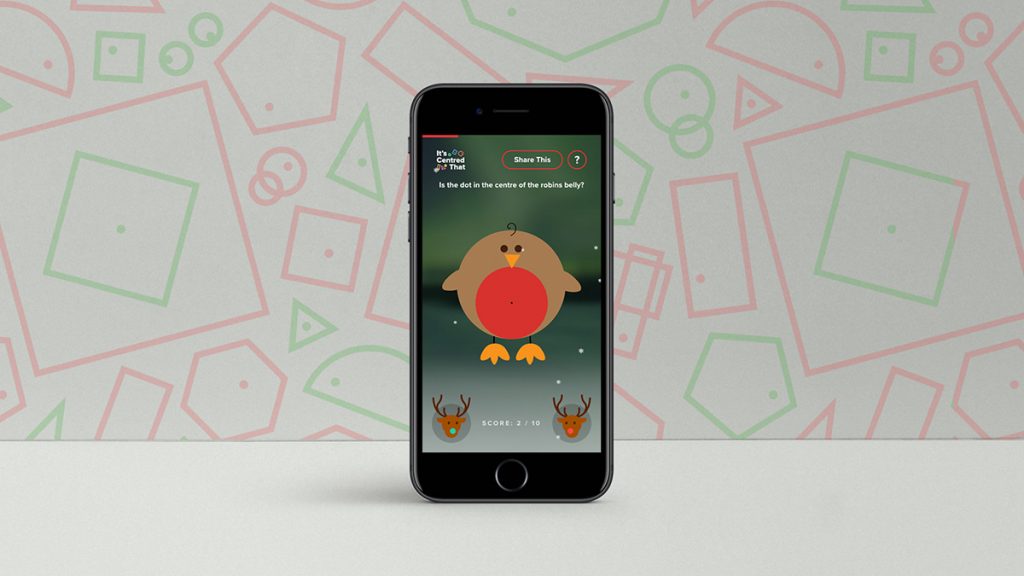 The results…
From the beginning of December to date the It's Centred That Xmas has seen nearly 60'000 new users. All flocking to our falling snowflakes and reindeer emojis. In the spirit of Christmas our game was shared on blogs and websites like Creative Bloq and One Page Love. It also got a mention on awwwards for mobile excellence and featured in Design Week's Christmas round-up.
Play the game here.
Digital Marketeer
Back In November 2019 we welcomed Chris Busby to the team as our Digital Marketing Apprentice. Knowledge is best shared, so we're throwing everything we've got at Chris and hopefully by the end of his course he'll be teaching us a thing or two.