What does a Branding Agency actually do?
A branding agency's main focus is to help clients create, develop, maintain and improve brands. The main service offering of a branding agency is brand strategy with creative, design and communication services also falling under the umbrella. Many misinterpret branding as only 'good looking design' or logo creation but that's simply not the case…
A branding agency will help you to establish and support your brand by truly getting to know your business, identifying your goals and vision and communicating this in a way that connects with your target audience. This key information is gathered via brand workshops where your brand strategy is formulated.
A brand's strategy is made up of your brand purpose, mission, vision, values, positioning, and personality. If this sounds like what you're looking for then a branding agency is just what you need. 
What are the stages in the Branding process?
When working with a branding agency you'll be taken through several stages of the branding process. Here's a little breakdown of what to expect from each stage: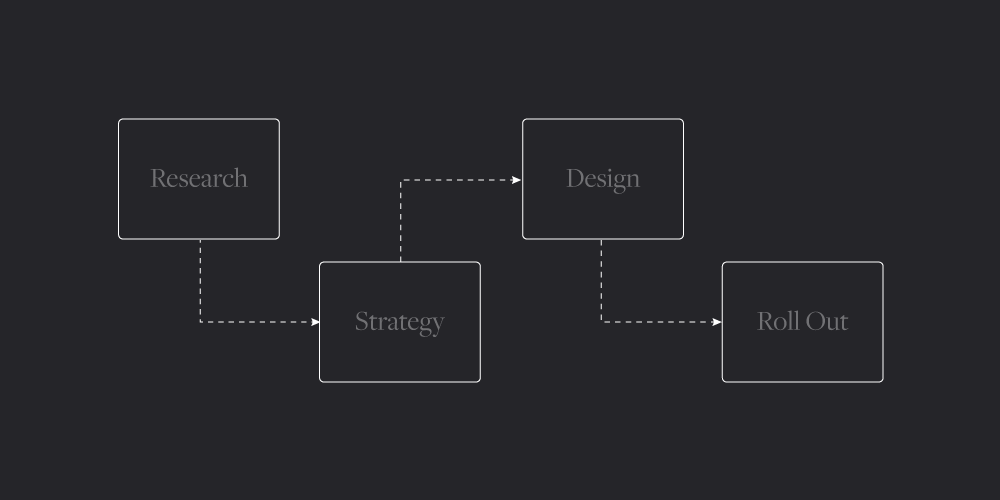 Research – Digging up the dirt on your current brand. 
Strategy – Building the foundations of your new brand. 
Design – Making your brand sing.  
Roll out – Showing off your brand to the world. 
1. The background research that will allow an agency to get to know your business, industry, competitors, target audience and your existing brand identity. It can happen both before and during a brand workshop, often in a Q&A format or with some exercises.
2. From the outcomes of research and findings of a brand workshop, a branding agency will help you to focus and define your brand's purpose, mission, vision, values, market positioning, and personality. These are critical for both your internal and external brand communications.
3. The design phase takes your brand strategy and translates it into a visual language. It starts with creating a logo, typography, colour palettes and any other brand elements i.e patterns, shapes and other ownable assets. These are then locked up in a set of brand guidelines for you to follow.
4. The implementation stage is where a branding agency will help you to plan the brand roll-out. It can take many forms, spanning across both print and digital media. Think business cards, brochures, presentation slides, website design, social media banners and more. This stage of branding can move at speed when the logo and brand guidelines are solid, though some brands take longer to reveal the brand by taking a soft launch approach.
What to look for when choosing a branding agency? 
There are a lot of branding agencies out there, all with something different to offer. Here's our tips on what to look out for when choosing your branding agency: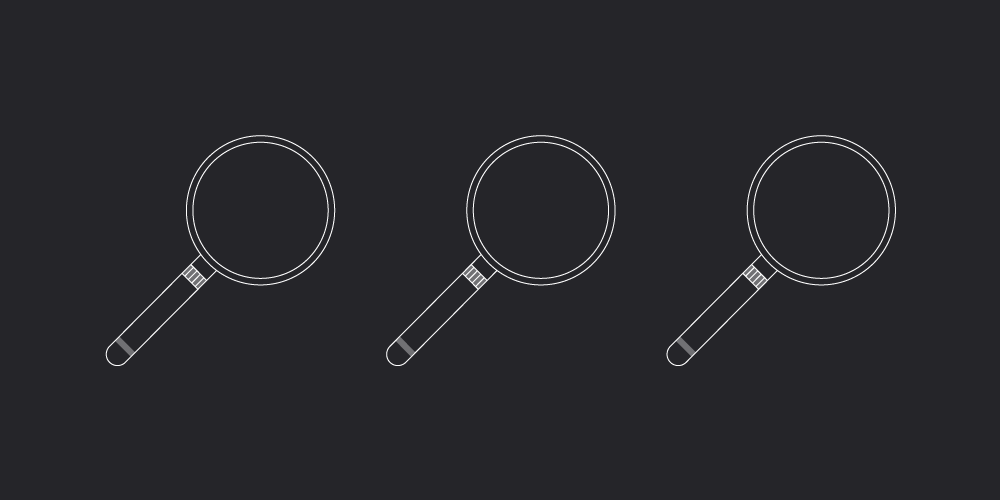 Look at their existing work.
Who are their past clients? Do you like the look of their case studies/client portfolio?
Do they have clear processes?
Clear processes and procedures will help guide you through the branding process. Look at their website & blog posts or send out an email to enquire further.
Do they practice what they preach? 
Look at the agency's own branding. Is it clean? Is it consistent? Has it been rolled out effectively across their pitch decks and website? Does it look like the real deal? 
What will it cost?
Everyone needs to be upfront and honest when it comes to what a brand development will cost. Share your budget with agencies so they can propose the best solutions. Make sure any proposals you receive clearly outline what brand deliverables you'll be getting at the end of the project.
Why is branding important?
Branding is no small task and sometimes it's easy to ask the question is it all worth it? Are there better ways to invest my company's time and money? Here's our attempt at an unbiased list of why you should give a damn about brand: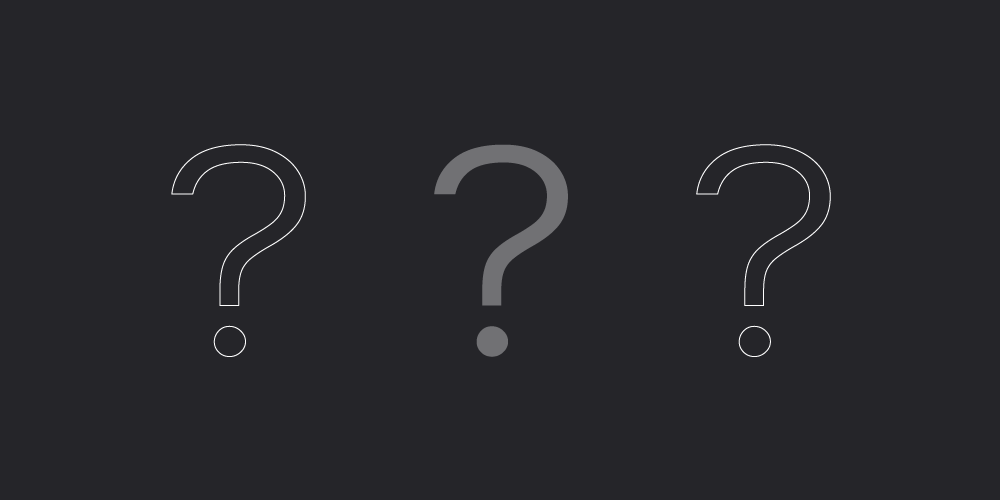 Branding crystallises your purpose. 
Your brand purpose, why you exist (and we're talking about more than just making money), is your strongest tool when executed consistently. It can rally your team, give you direction, focus your goals and will also help convince your target audience that you are an authentic brand worth interacting with.
Branding builds trust.
Everything from the aesthetic of your logo to your tone of voice builds brand trust. Done right, branding can convert casual observers into loyal followers and customers. High quality branding also has the potential to increase the perceived value of your products and services. It offers credibility.
Branding attracts talent and investment.
First impressions count and people will likely have made a judgement on your business by the brand alone before speaking to you or hearing truthful testimonials from others. Whether you're looking to attract investors or new team members, having a strong brand will signal to them that you mean business and are committed to your brand purpose.
Branding grows with you.
Whether you're a new business or an established one, change is sometimes inevitable. But branding is a consistent, guiding force. It will help you to stand out from your competitors and enable you to take change in your stride without risking your reputation or the loyalty of your followers.
For all these reasons working on your branding with a branding agency offers long-term value for your investment.
How much does it cost to work with a Branding Agency?
The million-dollar question. The answer – how long is a piece of string?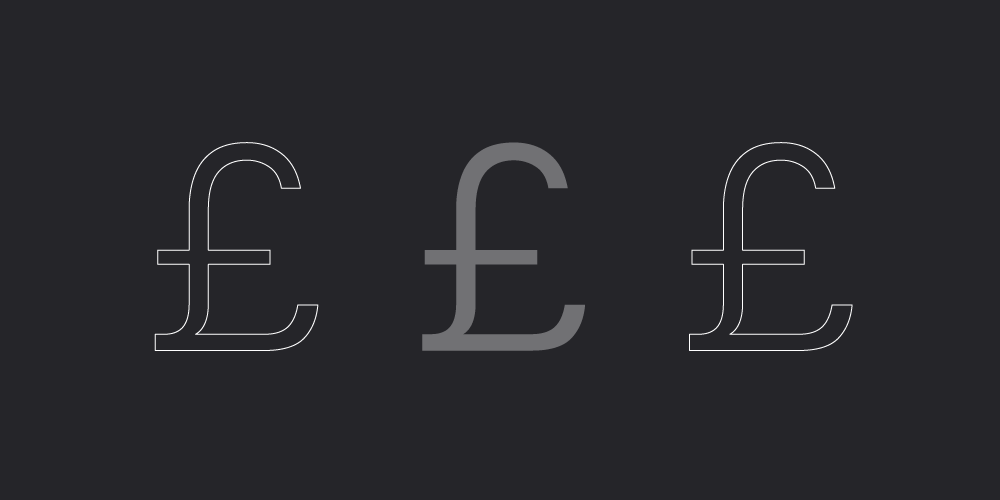 Pricing for branding services can range widely from quick and dirty DIY logo design at £20 to tens of thousands of pounds for strategic rebrands at global corps. You can find cheap logo design online but branding is so much more than just a logo. Paying a little more for quality branding services ensures that your brand resonates with audiences and can stand the test of time.
Pricing can vary widely across both agencies and freelancers. To give an indication of cost lower budget professional design services can range from £100-£500. Mid-range budgets with small-medium design agencies like ours can range anywhere from £1,000-£6,000. At the top end of the budget large brand and marketing companies can charge anything upwards of £10,000. Sharing your budget openly with potential freelancers and agencies can help them to quickly assess if they can help you to deliver your branding project goals.
Conclusion
A branding agency will help you to find out what makes you, you. It will establish trust with your audiences, motivate your team and provide you with a clear purpose and direction. For all these reasons branding is detrimental to the success and growth of your business, getting expert help and advice from a branding agency will only make you stronger.
Need help with your branding? Get in touch today and start your journey to brand enlightenment.