'Twas the night before Supremo close for Christmas,
when all through the house the team were working remotely MacBook, desktop and mouse.

Three websites were completed for clients with care,
in the hope that all invoices would soon be there.
As 2020 comes to a close we look back on 3 of our most recent project launches and celebrate all the good that has come out of a very strange year for everyone.
Campfire
In October we launched a new website for Campfire, a social media agency based in Manchester.
Our team designed and built a stage for these social media storytellers. The site is filled with micro-animations and transitions that mimic apps and social platforms.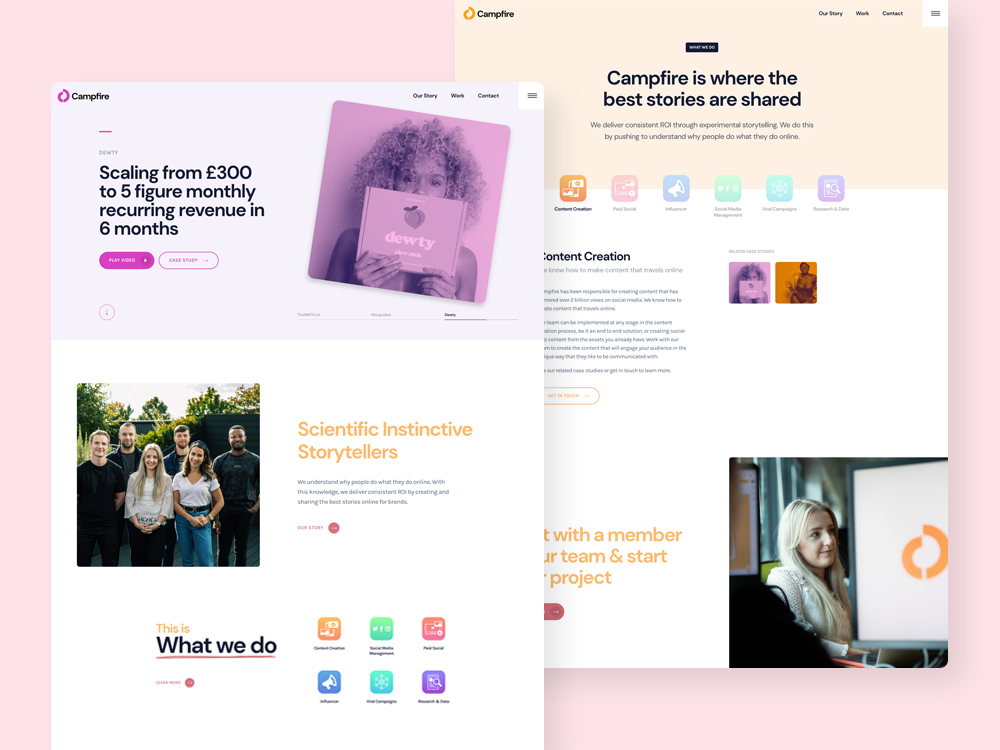 You can take a look at the website we built for Campfire here.
Banking Works
This year Supremo were a part of the digital transformation process for a fin-tech disruptor brand.
Our team designed and built a new website for Banking Works' new digital identity. Powerful animations, image masks and transitions bring the brand to life.

You can take a look at the website we built for Banking Works here.
 SRP
The final website launch of 2020 was SRP where we delivered UX web design for these acoustic engineers.
Our team designed and built site that showcased their stunning studios and precision design. The web design is clean with architectural touches and a limited use of pastel colours adds character to the brand.

You can take a look at the website we built for SRP here.
Supremo welcomes Eve and Harriet
During this last quarter of 2020 Supremo welcomed two new team members Eve Jaggi and Harriet Henton. Eve joined us in September as a Motion Designer on a professional placement from Switzerland and Harriet joined in November as our newest Designer. Both have hit the ground running and we can't wait to see more great work from them in 2021.

Supremo turned 10
Our Creative Director Ian started Supremo 10 Years ago and we are now a team of 9 full-timers! Ian spent the first 5 years working freelance in-house in Manchester & London observing processes, teams and not only how to create a good culture but also what creates an unhappy one too.
The next big leap was building up a small group of clients, getting both an office and a business partner. Our Technical Director Mike Strand joined and the talented Dan Heywood became their first employee 5 years ago. Supremo never followed the status quo when it came to a traditional business plan, we still don't, we've focused on the quality of the work, the rest comes with it.
Take a look at our video to see a reel of our latest and greatest:
And that's a wrap for 2020. All that's left is to wish everyone a Merry Christmas and Happy New Year!

Want to hear more from Supremo?
We post regularly on Twitter so make sure that you're following us on there.