What is a Webflow Website?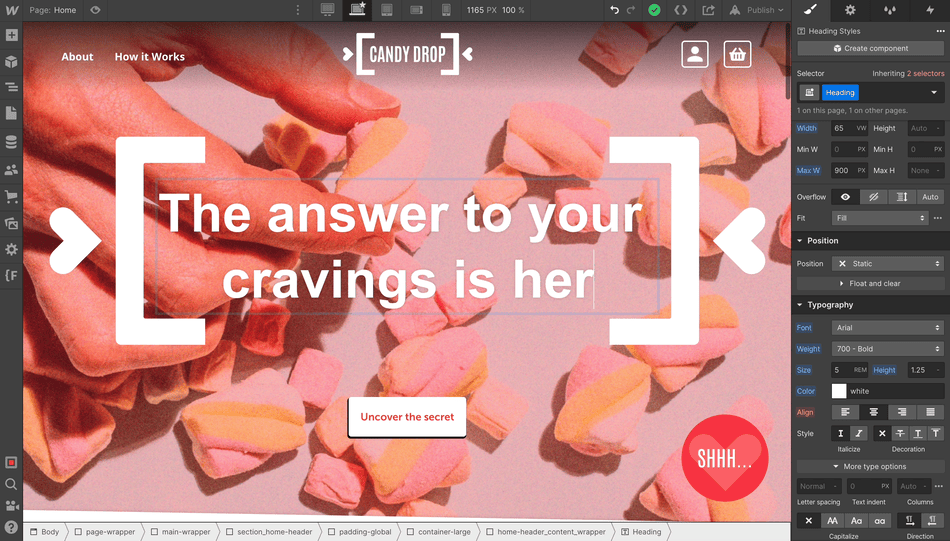 Webflow describes its software as a 'visual solution to web design'. Webflow offers a 'no-code' UI that allows users to create and host fully responsive websites without having any knowledge of code. Since its creation in 2013, Webflow has gained traction and respect from Web developers and Designers alike, who vouch for its ease of use and effectiveness in creating fully responsive, interactive websites. As Webflow is used mainly by designers, Webflow websites are often design and experience-driven, making them unique and interactive. 
Is a Webflow Website suitable for my company?
Now, we can't answer this question for you as this all depends on your needs and preferences. That being said, let's highlight some of Webflow's strengths to help you know if making a Webflow website would benefit you.
Giving designers the tools they need and a blank canvas to design/build a website means a faster turnaround at an affordable price tag. This also brings the client closer to the designer, creating websites much closer to your vision. 
Managing content is straightforward using Webflow's CMS, which is built into the interface. Adding blogs and services is as easy as posting on LinkedIn or Facebook, making it highly accessible – perfect if you have limited website knowledge!
Webflow uses a content delivery network (CDN) that ensures your page loads faster wherever the user is located. Webflow hosting allows you to access the fastest hosting technology regardless of your business needs, giving your customers a better user experience! In the modern world, where slow, janky websites are no longer tolerated, having a speedy website is a must. In addition, Google and other search engines often penalise slow websites, which can harm your company's digital growth.
Because Webflow grants the designer and client complete design freedom, your website can be tailored to your audience or service. Tailored websites give users an experience they wouldn't find on a pre-made Wix site, allowing your website to grow simultaneously with your business.
How much does a Webflow website cost?
Although Webflow's pricing is notoriously confusing at first glance, Webflow offers many different options for free and paid plans, meaning you're likely to find one that suits your needs.
The first thing to note is that there are two types of plans: Workspace plans and Site Plans. With both plans, you'll still need to pay for domain names; however, Webflow does most of the hosting work for you.
Webflow Workspace plans:
To begin building websites in Webflow, you'll need to pick a workspace plan. Currently, Webflow divides its six plans into "In-house team" and "Freelancers & Agencies". The main difference between site plans and workspace plans is that the latter is charged per account rather than per website. These are intended for freelancers and agencies aiming to provide Webflow development services to clients. Alternatively, they can be used by in-house teams. If you want to find out more about what each plan has to offer, we recommend you read more here.
Is Webflow better than WordPress?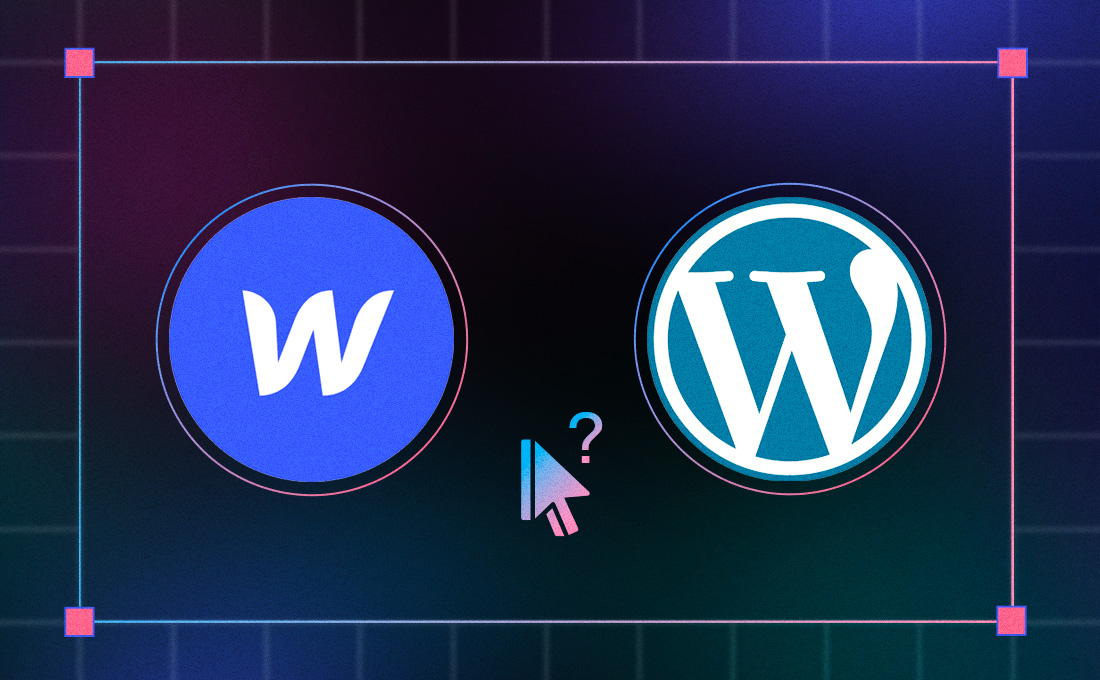 With 41% of the websites created online by WordPress, it's a popular choice. However, there are many other platforms out there that bring their benefits (and drawbacks). In recent years, Webflow has become a popular choice and contender in the 'best website builder' battle. 
Simply put,  WordPress is good at helping you build websites, users have to manage hosting, security and performance themselves, while Webflow does all of this for you. 
One of WordPress's strong points is its third-party extensions which allow you to control the design of your site and add new features to it. WordPress highly relies on these features, and every WordPress website you experience will take advantage of them. The core WordPress software is a foundation that you customise by adding plugins. This is a great way to add functionality and features to your website but it's worth noting that extensions use third-party code which can have an impact on the performance of your site. In contrast, Webflow is a finished application where everything is built into the tool, meaning you don't need to source third-party plugins or extensions. 
Generally, Webflow's drag and drop, no-code interface offers much more flexibility and freedom than you would experience when building in WordPress. That's not to say WordPress isn't an incredibly powerful tool for building websites. Still, we felt that Webflow allowed us to do a lot more from a creative perspective, putting less strain on the developers. 
Is WebFlow better than Wix and other 'website builders'?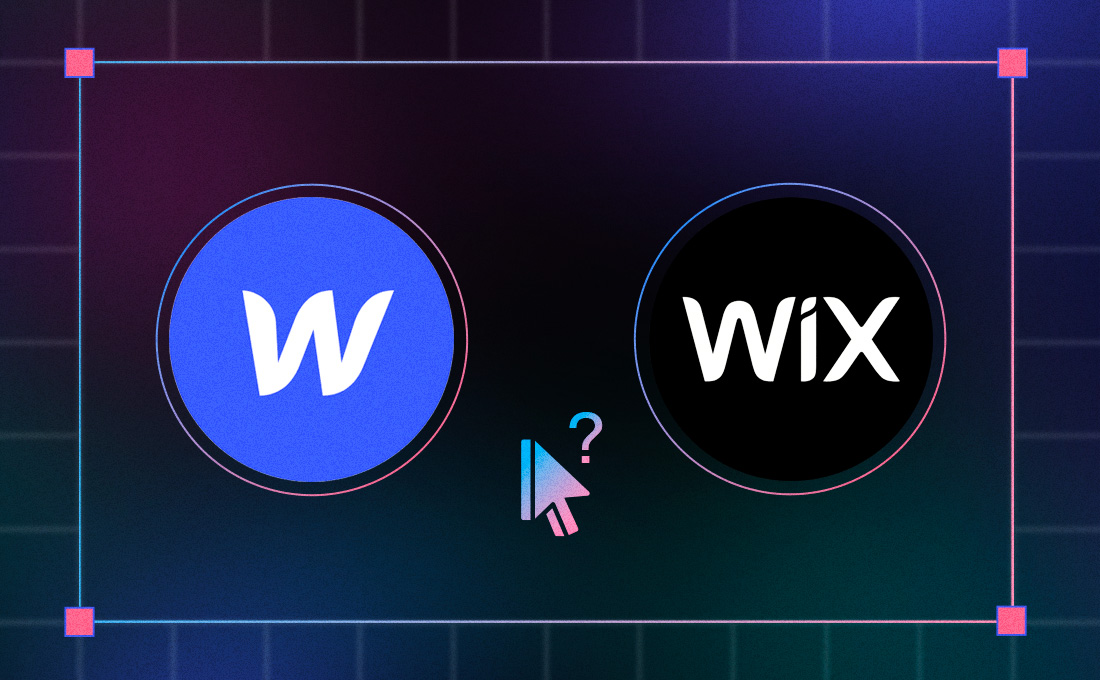 So we've covered that Webflow as a website builder is simple to use, but does this come with limitations? Of course, but they don't hold you back. This is where Webflow stands out from its no-code competitors like Wix and Squarespace.
Ease of use
Webflow uses the same drag-and-drop interface as tools like Wix and Squarespace. This drag-and-drop method is pretty self-explanatory, users drag and drop elements to build their website, which makes building websites easy and intuitive.  The difference with Webflow's interface is that it offers a lot more options, compared to tools like Wix. This means it can be a bit more overwhelming to beginners. 
Customisability
The drawback to drag-and-drop tools is usually they can be constricting in terms of customisation. Tools like Wix restrict users to specific layouts and themes with limited customisation making it difficult to build a unique site that truly connects with your audience. In contrast, Webflow's revolutionary interface takes advantage of this simple drag-and-drop method without many restrictions, empowering users to precisely alter and change aspects of a website. 
Templates and Apps
Wix is notorious for its immense template and app market, boasting over 300 popular web apps you can use to enhance and grow your business. Most of these are free to use and can be implemented on your site with just a few clicks. While Webflow doesn't offer as many templates or apps, they are just as accessible and powerful with more being added frequently. However as we stated before, the problem with third-party apps and themes is that they can often add necessary code that is never used in your site, negatively impacting your site performance.
SEO Optimisation
SEO (Search Engine Optimisation) aims at improving your site's visibility and ranking on search engines like Google. It involves optimising the content and code of a website to make it more useful and accessible. Both Webflow and Wix offer built-in SEO optimisation tools to help businesses improve their search engine rankings. Webflow, still, offers moderately deeper SEO options, which in turn increases the rating of its websites in the search engine results.
Creating Responsive Websites
Responsive design is a method of designing websites that automatically adapt to the screen size and resolution of the device that the website is being viewed on. It is important for creating a good user experience and improving search engine rankings. Webflow offers a wide range of responsive design options, from the ability to create custom breakpoints to the ability to design and test a website on various device sizes. This allows for a high level of control over how a website looks and functions on different devices. Wix, on the other hand, uses a mobile-first approach for responsive design. It automatically optimises a website for mobile devices and allows users to make adjustments to the mobile version of their website. While this can make it easier to create a responsive website, it also means that users have less control over how the website looks and functions on different devices.
In summary, both Webflow and tools like Wix are good options if you want to build a responsive website for your company with little/no coding knowledge. However, If you're looking for options to scale your website, then tools like Wix and Squarespace won't cut it and you're better off using a tool like Webflow which offers more control.
Is Webflow good for beginners?
The short answer is yes! Not needing to learn code eliminates the most challenging and time-consuming part of building websites. To edit and change content on your site, you don't even need to access the designer. Webflow's 'Editor' is a stripped-down tool that lives inside your published website, here you can manage content without having to worry about changing the appearance of your website. 
Nonetheless, 'Webflow University' is an excellent resource for anyone looking to dip their toes into Webflow's designer but doesn't know where to start. 
Webflow makes itself accessible to people of all experience levels. But the more comfortable you get with Webflow, the more freedom you will have when creating and editing websites. This being said, we'll always recommend hiring a professional designer to design and build your website. This will ensure you get a final product that is right for your company and you'll still be able to edit content with ease using Webflow's CMS. 
Do professional businesses use Webflow?
Just because Webflow makes itself accessible to newbies doesn't mean professional designers aren't using its advanced features for client projects. Many professional web designers use Webflow as it offers a powerful and flexible tool for designing and developing complex websites. More than 3,500,000 designers and teams use Webflow to create and collaborate on beautiful websites, including us at Supremo! 
Below is a list of notable household name companies using Webflow to bring their ideas to life:
Conclusion
In conclusion, Webflow is a powerful tool that can help businesses create professional-looking websites without the need for coding skills. With approximately 230,000 websites using Webflow and more making the switch every day, it's obvious that Webflow is a powerhouse platform that could significantly impact your business if you choose to take advantage of its capabilities. It offers a range of templates, design elements, and features that can be customised to fit your brand. With Webflow, businesses can create a website that is both functional and visually appealing.
Need help launching your next Webflow site? Get in touch.