Nifted
Nifted is changing the way we view and own non-fungible tokens (NFTs). Their device is designed to showcase NFTs in all their glory by allowing owners to view their digital assets on a device designed specifically for NFTs. Nifted approached us with the challenge of refreshing their brand and website to become more in line with the current and disruptive nature of their product.
Services
Evolution of the Nifted logo

To elevate their current identity, we kept the same colour palette used in the previous logo. We lost the graffiti-style typeface that was acting as a nod to old-school art and instead brought in a touch of sci-fi to build on the image of collectors and collectibles. This worked to bring the Nifted brand more in line with the NFT space.
We replaced the font with a slick new typeface that was much more in line with the digital era of art that Nifted are operating within.
Additionally, we added a screen icon to the logo which could also stand alone on social media and packaging, giving Nifted an additional way to be identified by the NFT community.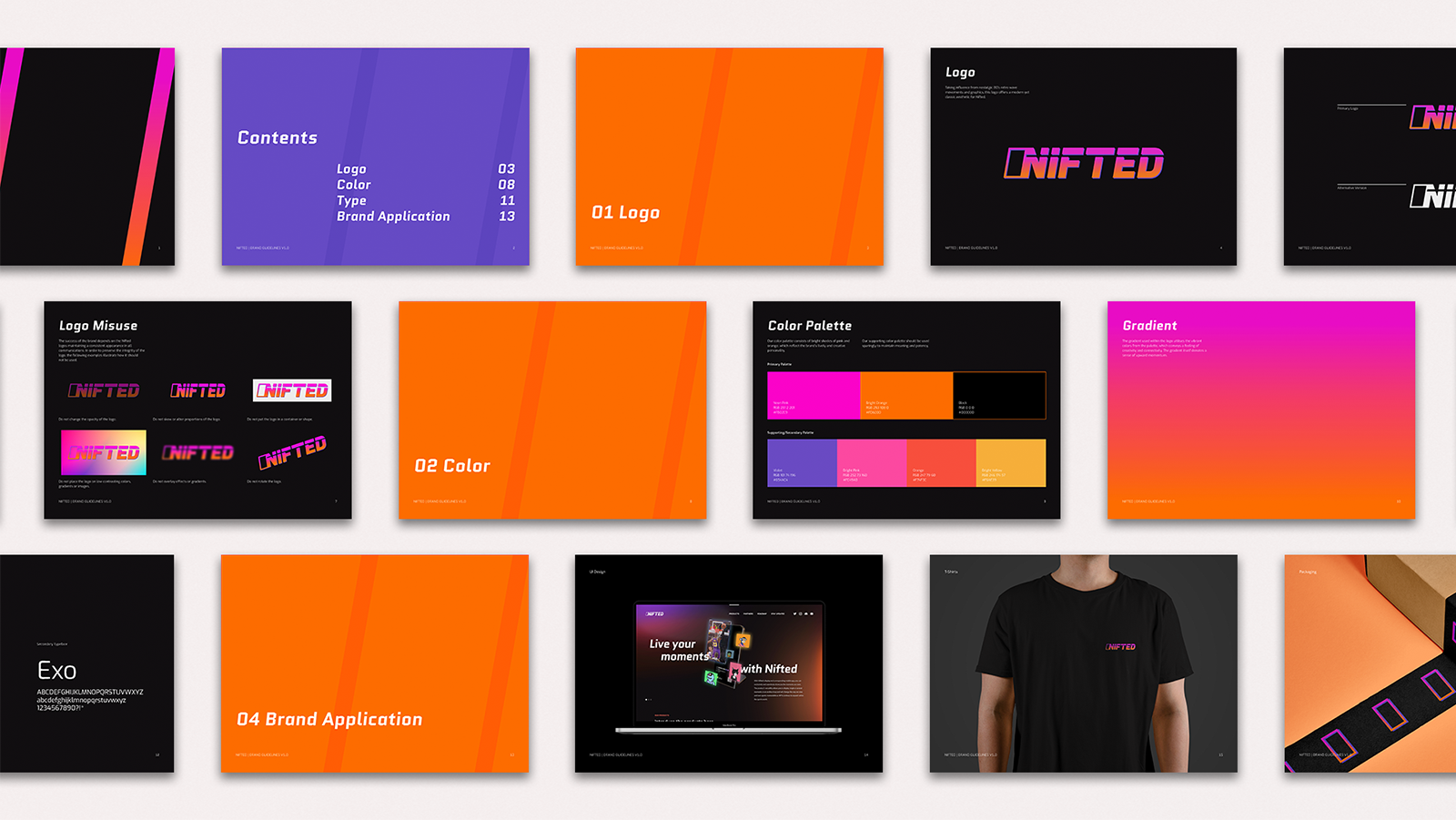 Understanding the NFT community

In 2021, sales of digital assets known as NFTs grew to more than $40billion. This new technology quickly grabbed the attention of many conventional businesses who were looking to jump on the bandwagon.
Whilst this included many digital printing companies pivoting into the NFT space, Nifted was a brand designed by NFT lovers for the NFT community.
Our prior experience of working with NFTs allowed us to create an authentic story and differentiate Nifted through their branding.

"We really enjoyed working with Nifted to help elevate their brand. While we kept Nifted's established colour palette, we refreshed their logo and brand assets to bring their identity up to speed within the NFT community."

Lizzy Redden

— Head of Brand
Product-centric website
The final challenge was to apply the refreshed branding to new website UI designs, whilst also placing a high emphasis on UX that would drive sales of Nifted devices.
We ensured the product was at the centre of the website. Using an animated image of the Nifted device in the hero area of the homepage made sure visitors landing on the website were immediately greeted with the product and its functionality.

Next - Radar Opus
A healthy new look
for homoeopathy
View project