Century
CENTURY is an AI teaching and learning platform for schools, colleges and universities. It uses AI, neuroscience and learning science to provide an education that dynamically adapts to each individual's needs. Built by teachers for teachers, CENTURY Tech is currently being used by thousands of students, with more and more secondary schools and colleges onboarding each month.
Services
The Brief
A class of its own:
AI learning platform website.
CENTURY came to us looking specifically for a UX web design team to consult and collaborate with in the creation of their new website. CENTURY needed a team to join the process, from start to finish, offering counsel on the best UX practices. The challenge, the company has a large number of different sales funnels and customer profiles, from investors through to schools and parents. We needed to design and build a site to accommodate this.
A second challenge in the brief was how to accentuate the tech's intuitive nature and high level AI whilst ensuring a human, personable look and feel. We started the process with only a logo and a colour scheme so we had to evolve these brand assets to help CENTURY to be recognised as a disruptor brand in the sector.
Wireframes & UX
Mapping out success in UX wireframes
CENTURY's offering supports a wide variety of learners and teachers with their intelligent intervention tool. They work with primary schools, secondary schools, FE colleges and also present their offering to independent and international schools as well as the parents of all pupils. In the wireframes we defined these customer profiles and user journeys, ensuring that content was tailored and organised for each segment of web visitors.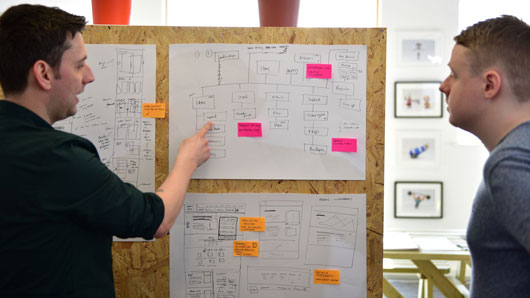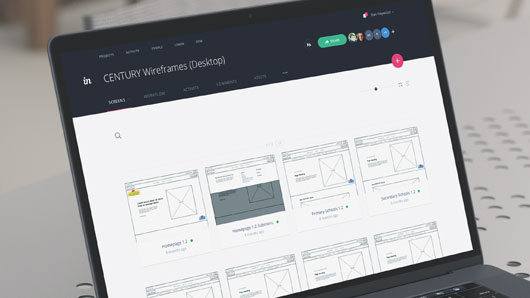 It was important to keep the user journeys simple but account for a large site architecture with different levels of engagement and enquiry. We achieved this by simplifying the main nav but placing the full site map in the footer for those looking for specific information. CTA's were particularly important for CENTURY's marketing team so they could implement successful tracking and analytics. This conversion-led approach to UX meant that we could measure success against increases in demo bookings for the platform.
Design
Scientific styling and signifiers
Next up the design phase. This involved evolving the CENTURY brand and rolling it out across the site. Starting with just the logo, brand colours and product design, we built upon this image of revolutionary AI and neuroscience with scientific styling and signifiers. These included particle-like vectors, circular loading graphics resembling a microscope and a particle network spidering across web pages, mimicking the neuroscience behind the tool.
Whilst it was key to draw upon the scientific brilliance of the platform, the website also required a personal approach. We ensured that designs had a friendly look and feel with colourful animated illustrations, rounded vectors and curves. This evolved into a style we set for custom icons and illustrations.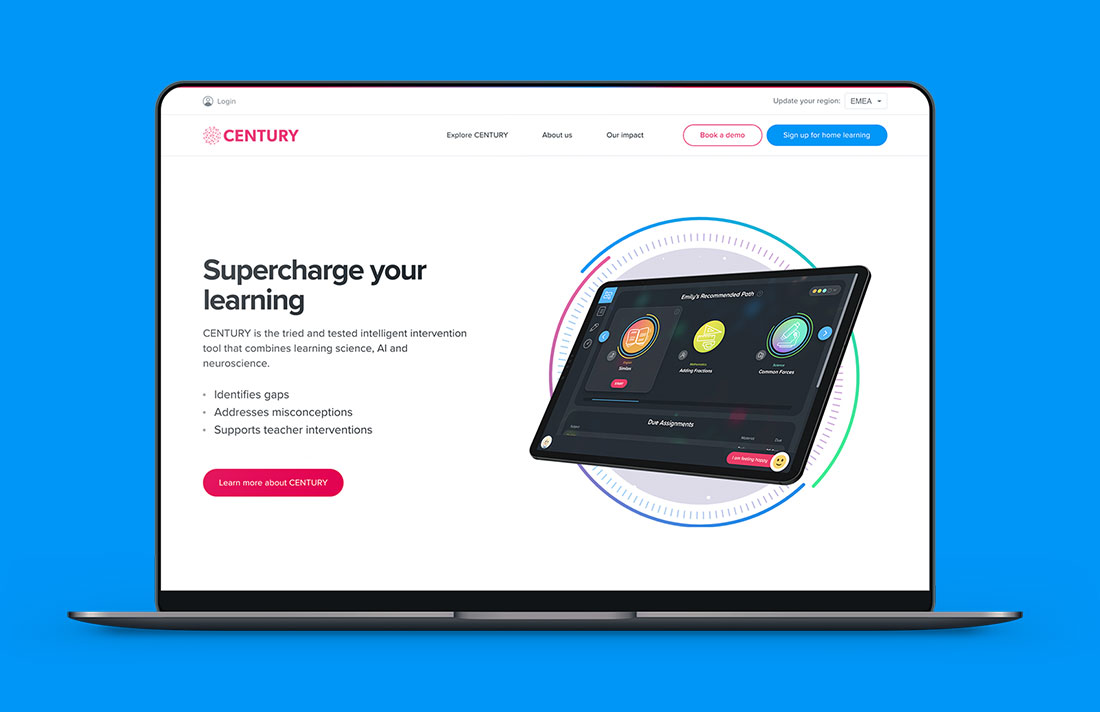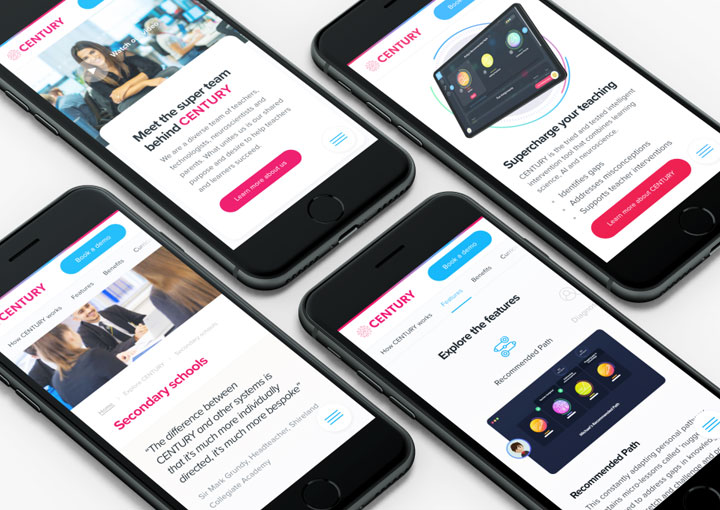 "Century was a fun brand to work on, my favourite challenge was illustrating the core features of the product through animation that would make sense to both parents and students."

Dan Heywood

— Head of Design
Animation
Bringing the product to life through animation
The Supremo team mimicked the tech's intuitive nature with lively animations. Part of the process involved fully understanding CENTURY's product offering in order to translate features into illustrations and animations. The Supremo team received a product demo from a teacher working within the company, giving us the inside scoop on its capabilities and USP's.
After understanding the product offering we then took CENTURY's sketches and ideas and materialised them. The animations produced highlight the perks of the product and its features by keeping close to the product's interface design but also using clear and simple imagery.
"It was a thoroughly enjoyable experience working on the development for CENTURY. In particular, creating fully flexible page modules and seeing CENTURY's marketing team put together custom pages with ease, as well as having fun with micro-animations across the site to accentuate their high-level AI."

Ashley Dutton

— Developer
Development
Developing a powerful, liberating marketing tool
We built CENTURY a powerful marketing tool by plugging in our powerful custom built CMS. Our bespoke page builder, built on WordPress, gives CENTURY's marketing team the power to create new pages with tailor made branded modules. This functionality is contained within a simple, easy to use interface.
Our custom CMS provides full flexibility allowing admins to quickly and easily edit existing page modules and to rearrange and add additional modules. The page builder empowers the marketing team by giving them the tools they need to be increasingly responsive and independent. Moving forward they can manage the website without the need for agency intervention.
"At CENTURY we were looking for an end-to-end solution for our website; UX, design and back end. Supremo have been fantastic to work with and have become a trusted partner for our team."
Be inspired.
Check out the live site to explore the platform and its revolutionary features.
View Live Site
Next - Medicys
Injecting life into
a global healthcare brand
View project