We were given the brief to design and build a data visualisation that would give a clear and simple picture of the state of food hygiene in public eateries across London. Using the API provided by the Food Standards Agency, we created an interactive map plotting each restaurant, takeaway, pub and school in London that served food, each with their official food hygiene rating. Users could identify eateries anywhere across the capital and compare the performances of each borough.

An initial exclusive had been agreed with the Evening Standard, our client's primary target. Once the Evening Standard had published their article covering our data visualisation (both in print and online), the visualisation featured in Time Out magazine and Gizmodo. It then received further coverage in several local London papers and online publisher sites.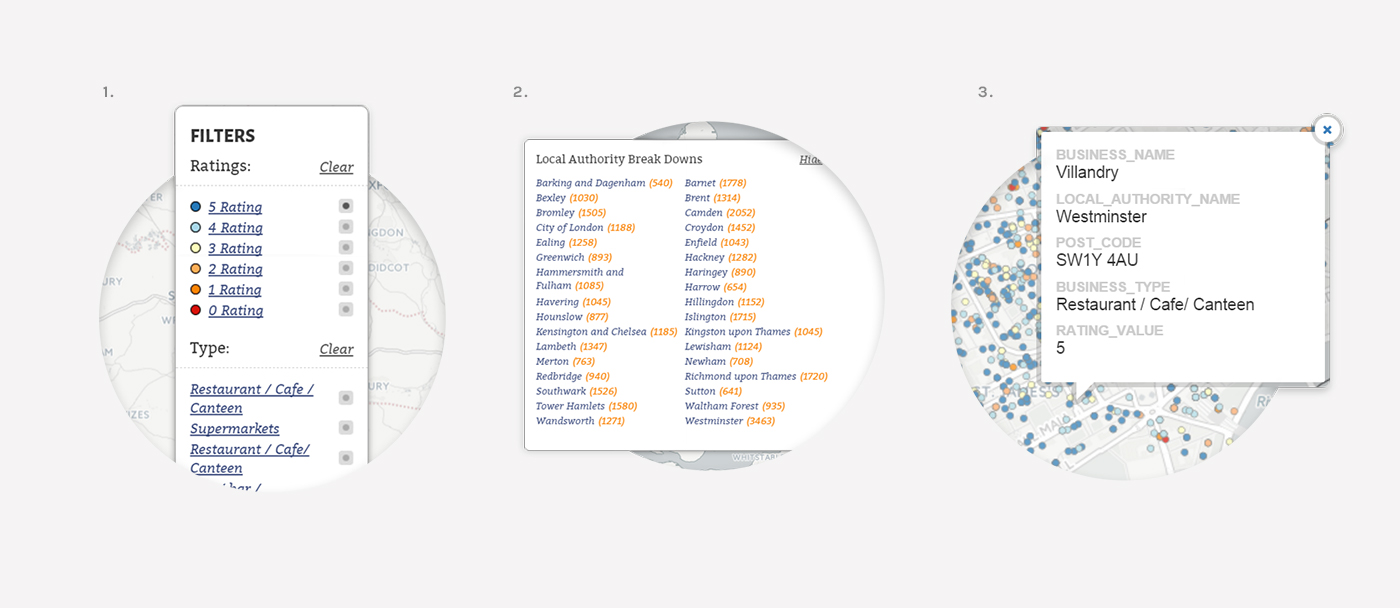 1. The idea behind this visualisation was for users to be able to identify local hangouts, but also to compare different types of eateries from different parts of London. We created a filter, allowing users to select which ratings they wanted to see (i.e. only 5 rating) and which type of establishment (i.e. just takeaways).

2. The breakdown of data made for some interesting analysis. We created a key that presented the number of selected establishments from each borough. So, if you wanted to see which authority had the most zero-rated restaurants in London, you could filter the appropriate categories and easily identify the numbers per borough. This made the piece particularly interesting for local London newspapers.

3. Each pin was colour coded according to its FSA rating. Users could click on any pin and be presented with a box containing the full details of that establishment, including business name, business type, local authority name and most importantly, FSA rating.

The influx of traffic, together with the links and social sharing that followed, led to a significant increase in search engine rankings and organic traffic.
Coverage

in London Evening Standard, Time Out Magazine and Gizmodo

112%

Increase in organic traffic 6 months after launch compared to previous 6 months

1552%

Increase in social traffic in 6 months after launch compared to previous 6 months